For every $10 donation, you'll get a ballot to win a pair of 0.50 t.c.w White Gold Diamond Solitaire Earrings.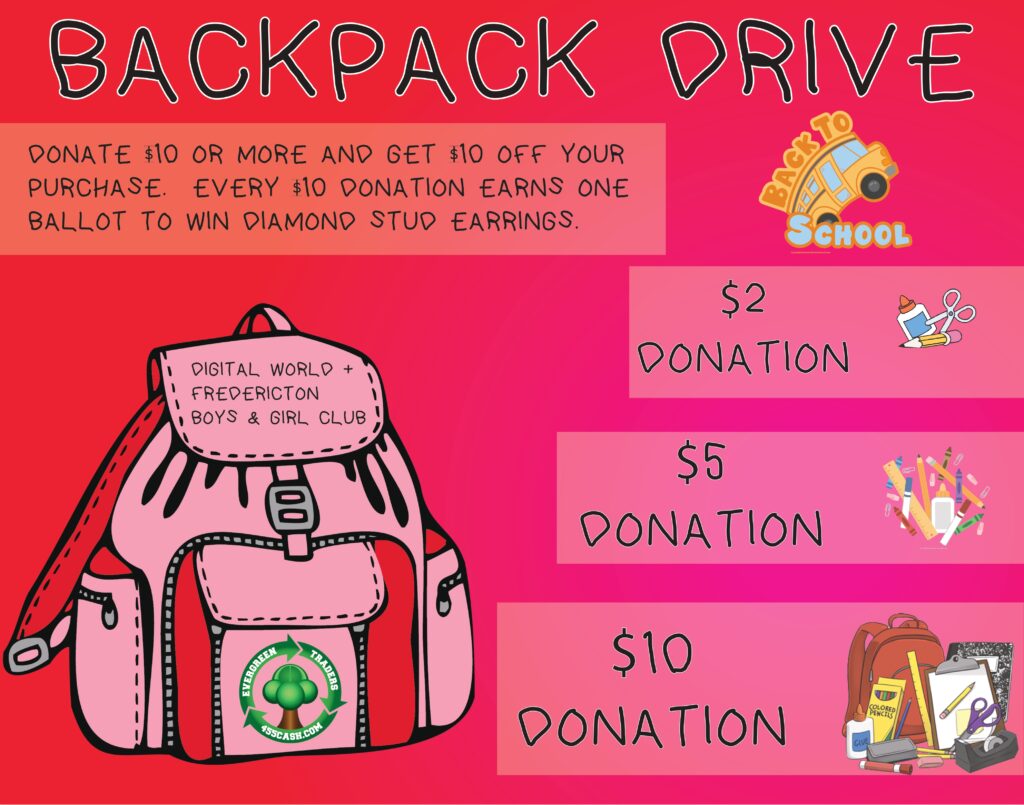 Evergreen Traders and Digital World are pleased to announce our Backpack Drive which is dedicated to collecting school supplies to support students in Fredricton's local community. 
The Backpack Drive will begin on  Thursday, August 12th, and will continue until Aug 31st.  International Youth Day is commemorated every year on August 12th and this is a great opportunity to kick off our back-to-school supply drive, give back to our community, and support schools that have been particularly badly struck by the covid-19 outbreak.
Guidelines-
Every $10 or more you donate, you get a $10 OFF purchase plus a contest entry per $10 donation. 

Each ballot will be entered to win a pair of 14kt White Gold Solitaire Diamond Earrings with a total carat weight of 0.50. These earrings have a retail value of $279.99 in our showcase!

There are 3 donation levels $2, $5, $10. We have preassembled packs of school supplies ready to be donated in-store. Due to Covid-19, we will only be able to accept monetary donations which we will use to purchase school supplies that will be donated. 

We will be donating backpacks full of school supplies to the Boys and Girls Club, Fredericton. (edit if they don't partner) 

This is an in-store donation opportunity only.
We will be announcing the winner through a live session on our Facebook page and via our website in early September. (link)
You can check our new stock here
You can check our weekly sales flyer here.